You might see different kinds of speakers, which project low to moderate or high volume sounds. But, when you are looking for an excellent speaker for your home studio or a huge gathering, a strong debate between the pa speaker and studio monitor makes you confused.
If you don't have a clear and concise idea about their productivity, it is tough to choose the right one for the right purpose. In that case, you should know the exact difference between studio monitors and pa speakers.
The first and foremost difference between the pa speakers and studio monitor is their bass frequency. A 12 inches driver is used for PA speakers and produces a louder sound. The 3-4 inches driver is alright for studio monitors and creates a more accurate, clear, and crispy sound to the world of music.
These are not the only differences between PA speakers and studio monitors. This blog post will describe many aspects of PA speakers and studio monitors based on our research and knowledge. So stay with us till the end to disclose all differences and select the best one to serve your purpose.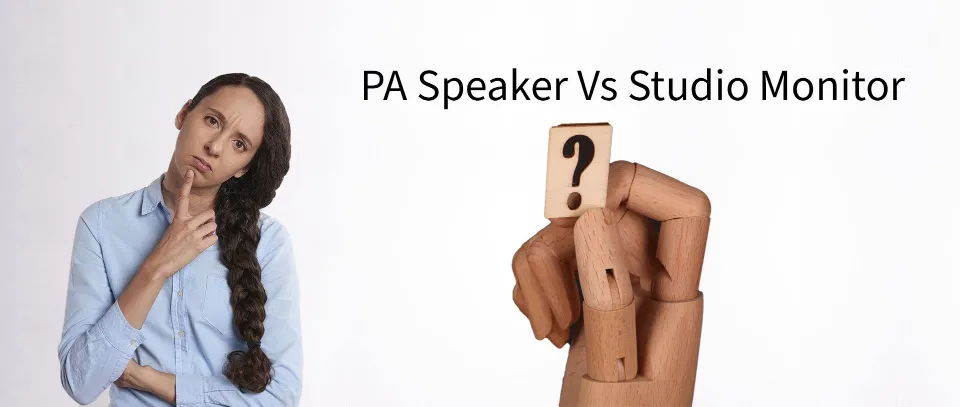 PA Speaker vs Studio Monitors || What To Choose?
PA speakers and studio monitor speakers both are constructed to produce sounds. But, they are not designed for the same purposes. You have to know both of the speaker's features, specifications, and functionality to realize what will suit you.
In the first phase, we will narrate everything about PA speakers and the second phase we will describe studio monitors. Let's dive into the points.
What is PA Speaker?
PA is the short form of "public address." That means which speaker or electronic system is manufactured to produce louder sound to address a large group of people is called a PA speaker. Its inside systems and outside shape and size are designed as strong as possible to reach sounds too far.
The first pa speaker was invented in 1910. Because there were no speakers to deliver louder sound to announce or give speeches to an area. Now, many things have changed with time, and the PA speaker also tremendously improved with new technology.
Uses of Public Address System
By listening to its name, you may realize the purposes of this pa speaker. In past years, PA speakers were used to inform some important announcements to the local people. Because at that time, it was the only way to reach a large number of people at a stretch.
But, now most of the pa speakers are used in clubs, concerts, parties, stadiums, auditoriums, and other places where louder sound is needed. The only reason for using the pa speakers in those places is its sound projection capacity. When a PA speaker is used, the room will fill with sound, and the last person in the room can hear the audio.
Types of Public Address Systems
Depending on the PA speaker's audio producing capability, you will find three PA speakers in the market. One kind of speaker is suitable for one purpose. Here are the three speakers
Personal or indoor PA speakers
The personal PA speakers have a mini or single speaker array. They are mainly used as feedback sound speakers. You can use the individual PA speakers for teachers, tour classroom singing, guides, coaches, or yoga fitness instructors. Some personal PA speakers are
As a personal pa speaker, you can choose any one among them. Because they come with rechargeable batteries, an easy operation system, mini size, and they perform very well.
Medium or indoor PA speakers
The medium PA speakers have a couple of vertical speakers. The speakers are placed on both sides to make equal sounds. You can use the medium PA speakers in the large stadium, nightclubs, mobile DJ platforms, and many more places to enjoy music with the linear speaker array. These speakers can cover up to 500 people's gatherings. Some pocket friendly and worthwhile medium PA speakers are
These speakers have Bluetooth connectivity to use the system with your smartphone and tablet. They are easy to connect, portable, and great to project sounds.
Full-size or outdoor pa speakers
The full-size or outdoor pa speakers are designed to use in an open space and any weather conditions. These systems come in a package of 4-6 speakers and a subwoofer. The full-sized PA speakers are great for any public gathering or event where you need to coordinate before starting, during, and after completing.
The outdoor speakers can amplify the music, and your voice covers many areas. Let's see two of the best outdoor pa speakers.
These outdoor pa systems are excellent to provide you with high-quality sound, without bass and low frequency.
Weatherproof outdoor pa speakers
Though we have a rich technology and with its help, we can predict the environmental condition. But, sometimes the prediction will not work, and suddenly the rain comes. Choosing weatherproof outdoor pa speakers is a wise decision to manage this type of situation.
Since the speakers are designed as weatherproof, you are free to use them on a sunny, rainy, or foggy day. The system's color will not fade due to the sun's scorching heat. And the rain's water and winter's fog will not damage its internal parts. Here are some weatherproof outdoor pa speakers
You can choose any one of the lists according to your requirements. One weatherproof PA speaker can offer you long-lasting performance as they are not damaged for simple reasons.
Advantages of Public Address System
If you need to cover a group of majority people, you can enjoy a plethora of benefits once you invest in it. Such as
You don't need an AC power source to play the system
The system is flexible to cover longer distance people
It requires economic cables that reduce your expenses
It is easy to monitor the entire system from a single direction
Requires less maintenance, so you have to face less hassles
It will offer you the opportunity to pre-record the message to deliver when needed or manage any emergency
You can also use it as bells or traditional alarms to inform specific instructions to the audiences
Disadvantages of Public Address System
Besides advantages, the PA system also has some disadvantages. For example
It is heavyweight because of the integrated amplifier
The overall power consumption may be much higher than traditional system.
It produces a significantly louder sound that causes sound pollution and disturbs the people who are not involved with the event.
It requires knowledge to operate the system properly. Because improper and inefficient independent voice control can make inconsistent sound
This system is comparatively expensive than any other passive sound speaker.
These are everything about PA speakers. Now, it's time to look at the studio monitors.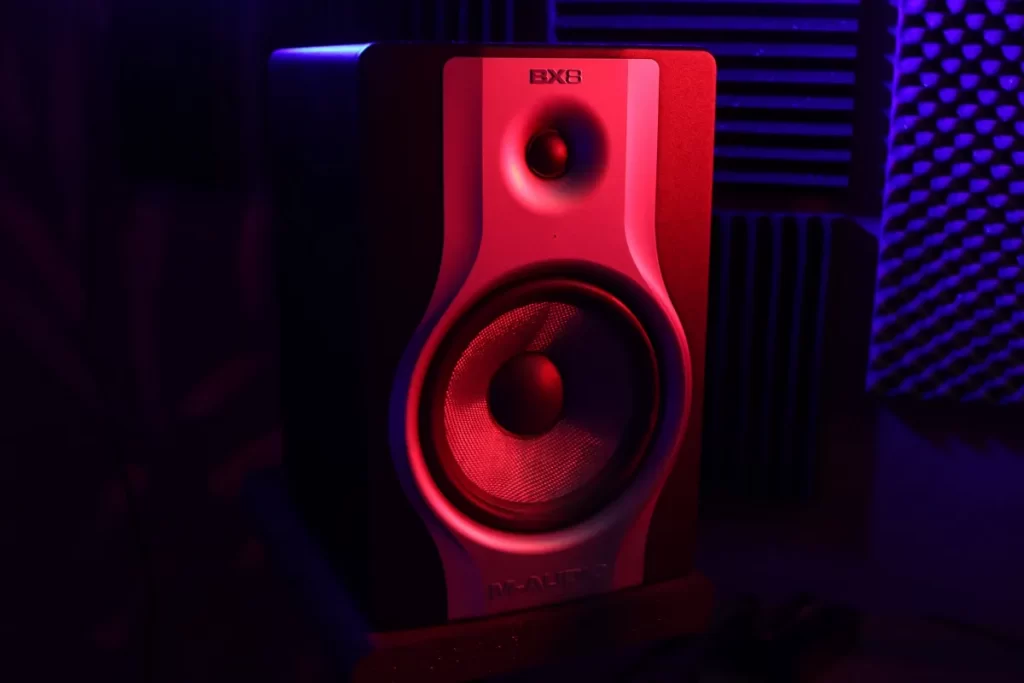 What Is Studio Monitor?
Which sound system is specially designed to produce accurate, clear, and precise sound, and set up in a small room is called studio monitors.
These speakers are mainly used in audio recording and production, radio, television, filmmaking, or personal music studios. Because in those places, the accurate and exact audio is criucial to enhance the output value.
Uses of Studio Monitors
In simple words, studio monitor is such as a loudspeaker by which the professionals can track and monitor the sound's quality when they produce, record, mix, and master. The system is set up in a room, and mainly the room is used as a workstation for music producers, musicians, and audio mixing engineers.
All of the professionals wish to get the delicate and crispy audio track whatever they produce or mix to predict the actual scenario of the audio. That is the prime purpose of using studio monitors. However, there are some different kinds of uses of studio monitors. For example
Using studio monitors for home stereo
You can use these speakers as your home stereo to record or listen to music in a pleasant environment. Besides, you can also monitor the audio range and frequency.
Studio monitors for casual listening
When you are in a casual, jolly, and fresh mode, you can experience a different type of audio with these speakers. But, yes, you don't get as many enjoyable sounds from this system. Because they are designed to reveal the audio as its natural tone of the sound.
Studio monitors for hifi listening
On top of that, they have most of the hi-fi listening applications to produce loud sounds. So that you can use them for hi-fi listening.
Studio monitors for gaming
The most exciting part of studio monitors is they are also great for gaming. The professionals who love video games can enjoy excellent audio when playing games to remove longer hours tiredness and make their mind fresh.
Types of Studio Monitors
Depending on the high-frequency and many other things, studio monitors are two types. Such as
This system requires the amp, which is separately powered and runs in a passive mode. But it doesn't require any power supply. Some passive systems are
They have a powered and crossover amplifier inside the unit, and require a power source or battery to work. Some active systems are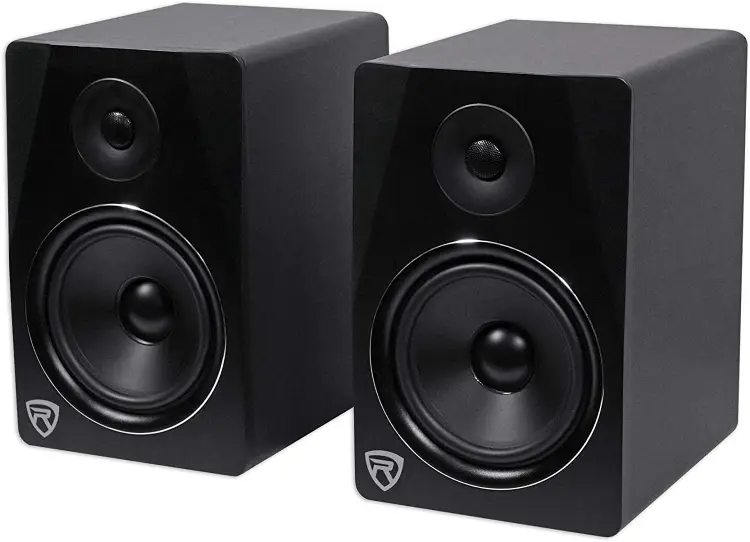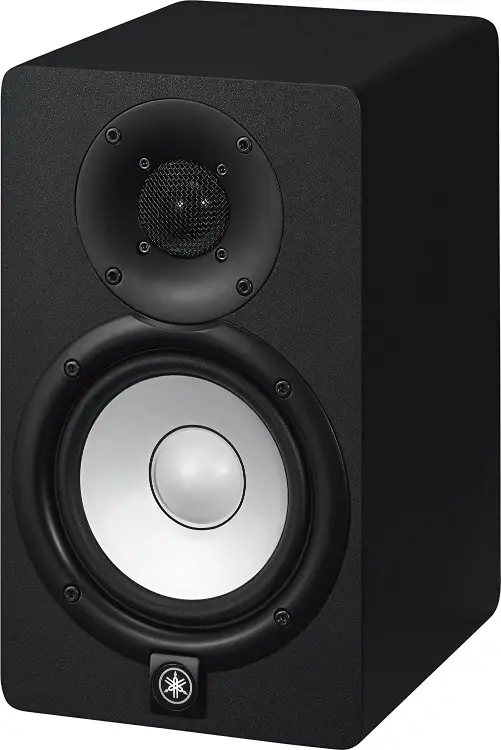 Advantages of Studio Monitors
The studio monitors offer you lots of benefits to experience. For example
Their first advantage is the natural and clear sound-producing capability.
They will offer you sound recording and monitoring opportunities in a calm and peaceful environment.
The sound will not be so loud. So the sound will not reach a broader distance and disturb the non-engaged people.
Who loves to listen to dedicated and accurate sounds will enjoy these speakers.
Using these speakers is excellent for avoiding sound pollution and preventing many diseases, including sleep disturbances, stress, high blood pressure, and heart disease. In one word, they are suitable for human health.
These speakers are budget-friendly and require limited space to set up.
Disadvantages of Studio Monitors
Studio monitors have a few cons. Such as
The sweet spots of the speakers are narrow.
Sometimes the sub low end will lose, and you may face challenges reproducing clear sounds.
All the ports of the speakers are rear placed.
If you are interested to know more about studio monitors than you can check out our Studio Monitors Vs Computer Speakers article.
FAQ
Are Studio Monitors Better Than Speakers?
Yes, home studio monitors enhance audio quality by producing rich tones with flat and mid sound volume. So you can enjoy a pure, precise, and perfect mixing of sounds according to your needs. On the contrary, speakers produce a louder sound that is inaccurate, and rush.
Can I Use studio Monitors as PA Speakers?
You can not use studio monitors as pa speakers. Because you need a louder sound that can reach far away to cover a group of people. But, studio monitors are designed to project flat and crispy sound to cover a room for personal listening or a small group of people.
Can I Use PA Speakers as studio monitors?
No, you can not use pa speakers as studio monitors because both the speakers are designed for serving different purposes. PA speakers project louder sound. But you need a flat sound frequency to have a good mix of sound.
Conclusion
After analyzing all the points of pa speaker vs studio monitor, we can say both are the right choice in their field. Both are unbeatable in their performance. If you want an accurate, precise, and pure sound system, then studio monitors can be a good option for you.
On the flip side, if you have to make an announcement, cover a vast space with lots of people, then a PA speaker is the perfect match for you. So, first, you have to determine your needs to pick the best option that can meet your expectations.