Mounting speakers on the wall definitely gives you a crystal-clear and surround-sound music experience. But isn't it quite heartbreaking when your scenario doesn't let you drill holes to install speakers? Fortunately, we have some alternative DIY mounting options.
So how to mount speakers on wall without drilling holes?
Firstly, if the speaker is light to medium weight, use Command hooks and Alien tapes with an adhesive back. Otherwise, Picture hooks are especially recommended for heavier speakers. Make sure the mounting tools can support your speaker weight.
If you're confused, don't worry! In this guide, we've discussed how to save your favorite speaker from falling on the floor.
Without further ado, let's get started!
How To Mount Speakers On Wall Without Drilling Holes – 3 Simple Methods
There are several causes for which you can't drill speaker mounts. Maybe you are living in a rented house, or a dormitory where you're not permitted to drill holes in the wall. Or maybe your wall has rigid material such as brick which can be damaged if you drill into it.
Luckily, there are plenty of drill-free options you can try to mount speakers and enjoy the beat of music relaxly.
Mounting Speaker with Command hooks (Best for lightweight speakers)
If you're a renter, you should consider the command hook as the first choice. Because renters are often not allowed to drill the rental room wall, or you might pay the bill for drilling even if it's allowed.
Command hooks are widely available everywhere in most grocery stores near your home. Or you can order it from online home improvement stores.
They have versatile mounting uses such as holiday decorations, picture mounting. On top-notch, command hooks have a hook design and adhesive back, so it's not only applicable on the wall, but you can use them on window sills or even on metal.
Use Command Hooks for-
Command hooks are affordable
Easy and fast to peel off the hooks from the wall without any residue
It lasts long, even for years
Let's check out the steps to mount speakers with a command hook.
Step 1
Select your preferred area of the wall where you want to mount the speaker.
Step 2
Now, dip a cloth into rubbing alcohol and wipe your area with this wet cloth. Don't use any detergent, household cleanings, including water, for cleaning the wall. Because cleaners can leave residue on the wall and dry the spot after wiping off. So if you don't install it on a smooth wall, it can't be stuck on the wall.
Step 3
Pull out the paper from behind the command hook covering the adhesive backing.
Step 4
Next, stick the adhesive back of the command hook on the cleaned spot. Let it stick in place for one hour to build adhesion. Adhesion will prevent slipping and allow the hook to stick firmly in place.
Step 5
Finally, hang on the wall-mount speaker on the command hook. Repeat the similar process if you want to mount multiple speakers on the wall.
Weight limit for Command Hook
Command hook supports weight within 7.5 pounds. So it has a high chance of slipping from the wall when you hang a heavy speaker on it. Indeed, it means command hooks aren't suitable for heavy speakers. Instead, you can use them for lighter speakers less than 5 pounds in weight.
Method 2: Mounting Speakers with Alien Tape (Best for Medium-Weight Speakers or Soundbars)
Our second recommended method is using Alien tape to mount your interior home speakers without drilling holes. It's also an excellent option for mounting a soundbar. However, it can firmly hold medium-weight speakers.
Alien tape is double-sided tape with strong adhesive backing on both sides. So it's more adhesive than command hooks and bears more load than hooks.
Want to know the best part? You can cut it according to the length of the soundbar. Otherwise, it can fit the size of any speaker as well.
Like a command hook, You can also easily peel off the tape clear without damaging or leaving any sticky residue in the wall.
However, consider that Alien tape doesn't stick well on porous or corrugated surfaces such as bare bricks. You should stick it on a smooth surface such as wood, plastic, ceramic, glass, etc.
Use Alien Tape Because-
Your speaker is heavier than 5 pounds.
You can cut it in any size for speakers (long, wide, etc.)
Reusable, and you can use the same piece in your new apartment.
Here are the step by step instructions to mount the speaker with Alien Tape.
Step 1
Select the wall area where you want to hang on the speaker.
Step 2
Clean the wall with a cloth soaked in rubbing alcohol as it'll enhance adhesion to stick the tape firmly in place. Let the clean area dry.
Step 3
Cut the Alien tape into pieces as much as you need to match the length of the speakers. If you're mounting a prominent speaker, we recommend you cut several pieces of the tape. Or, in the case of hanging a soundbar, cut a long piece of the Alien tape that can span the whole length of the soundbar.
Step 4
After that, stick the pieces of Alien tape in the cleaned wall.
Step 5
Now stick your speaker over the Alien tape and press it firmly over the wall so that the speaker tightly sticks to the tape. And you're done.
Weight Limit for Alien Tape
Manufacturers claim that Alien tape supports up to 17.5 pounds of weight which is more than twice of command hooks. However, putting on full load can risk falling off the tape. So if your speaker is below 13-14 pounds, use Alien tape. Otherwise, we recommend considering picture hooks.
Method 3: Mounting Speakers with Picture Hooks (Best for Heavy Weight Speaker)
So if you're a person who is looking for a reliable and secured mounting option for heavy speakers, Picture hooks must be the best choice.
As the name implies, picture hooks are primarily used to hang pictures on the wall. But they're an ideal option for mounting speakers as well.
It's the best alternative to Alien tape and command hooks. As its screws are mounted into the wall, there is almost no chance of the speakers falling and damaging. So you can enjoy listening to music from heavy speakers without fear. You'll find a variety of types of picture hook depending on weight limits. So when you're buying, choose the one that can hold the weight of your speaker.
Use Picture Hooks For-
Great value for money
Available in different weight limits
Easily removable without any damaging wall
Highly-Secured
Mount speakers with Picture hooks following the steps.
Step 1
Choose a wall location for mounting the speaker. Try to find flat or smooth surface walls because picture hooks work best. But they're not suitable for coarse walls such as textured or brick walls.
Step 2
After that, clean the area with a soaked wet cloth in rubbing alcohol. Cleaning the wall before mounting will prevent residues (such as oil, dirt, or grease) on the wall sticking to the adhesive back of the picture hook and allowing it to stick tightly on the wall. Wait for a few minutes until the wall dries.
Step 3
It's time for mounting picture hooks on the wall. But wait. First, grab a hammer because you'll need it while installing the hooks. After that, make a point on the wall using a pencil to install the picture hook.
Now place the hook on that point and install it using the hammer. Yes, it can create a tiny hole in your wall but don't worry. The hole isn't as big as a drilling hole, and you can easily hide it.
Step 4
Once you have installed the picture hook, look at your speakers to see any pre-drilled holes on the back. Most speakers come with pre-drilled holes, so you need to keep them in mind while buying the speaker. But if it does not have any holes, you might need to drill it first. Lastly, mount the speaker on the picture hooks carefully.
Weight Limits For Picture Hooks
Picture hooks come with different weight limits. It is recommended to choose a picture hook with almost double weight supporting capability than your speaker's original weight. It'll ensure your speaker's safety as well as the wall. For instance, if your speaker is 15-20 pounds, the picture hook should support at least 40 pounds.
These are three simple ways on how to hang speakers on wall without nails. You can choose any option among them that suits you best or that your speaker permits. But, yes you should check out the weight limit of the methods to secure your investment. Now, let's know some situations when you are bound to drill holes on the walls to mount the speakers.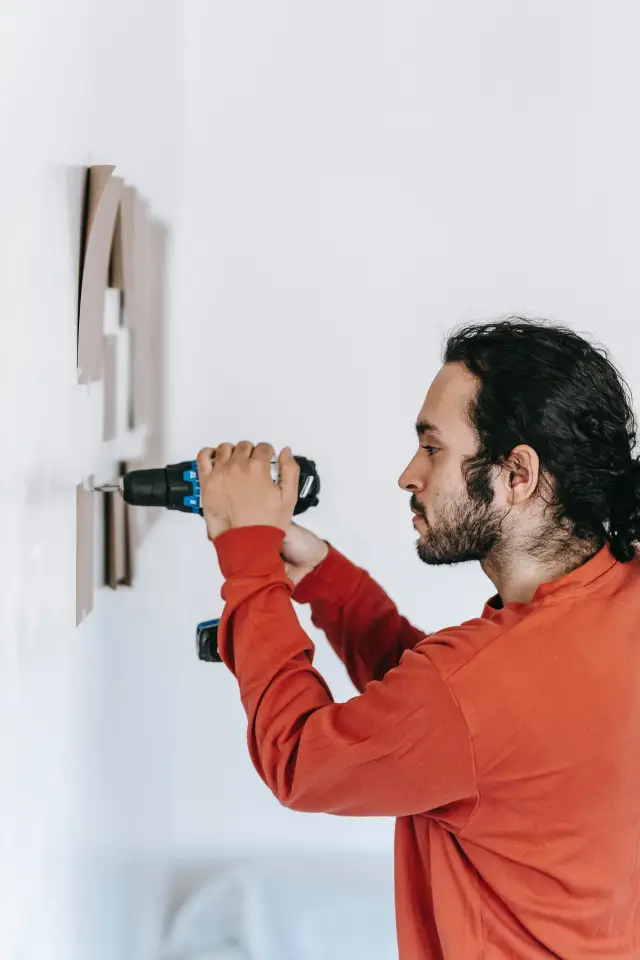 When Should You Drill Holes for Mounting Speakers?
According to the above scenario, you already know that mounting speakers on the wall is possible without drilling holes. However, sometimes it's not secure with these alternative options, and you should drill or screw the mount.
So there are some cases, when you should drill holes rather than mount with adhesive products.
When Your Speaker is Very Heavy
If your speaker weighs more than 15 pounds, stick adhesives may not be a reliable choice because they can't withstand the weight.
Besides, when you mount speakers, it vibrates due to the heavy bass, increasing the speaker's weight.
Even if you're mounted, the speaker safely fits with adhesive now, after a few days or weeks, the speakers may slip or fall. And it gets worse: damaged or broken permanently. In this case, you might come up with a drilling option.
If the Walls Are Plaster, Textured, or Ridged
Ridged, Plaster, and Textured walls prevent adhesive materials from sticking to them. That's why Command Hooks, Nails, or Alien Tape don't play well with these types of walls. So if your wall has these materials, you better go with drilling holes.
If The Speakers Have a Swivel Arm
Before mounting, find out if there is any swivel arm in the speaker. If it's there, your speaker will not be safe to mount with an adhesive like Alien tape or Hooks.
Because if you put a 2-pound speaker at the end of a swivel arm, it will create more force and act like a 10-pound speaker. So be careful and consider drilling holes for this one.
If You Spent a Lot of Money on Your Speakers
If your speaker is highly-expensive, costing hundreds or even thousands of dollars, forget wall mounting adhesives. Because they can't keep your high-end speakers safe at all. In such a case, drill a hole; otherwise, you'll lose your thousand-dollar speaker for a bit of rent deposit.
Is There Any Alternative to Wall-Mounted Speakers?
You have heavy speakers which you can't mount on the wall without drilling holes, but your landlord doesn't agree to do so.
Now: you can't drill the wall or nor use adhesives. So what is the way to solve this problem?
Come on. Every problem has a solution, and there are a few ideas you can try as alternatives to wall-mount speakers.
Speaker Stand
A Speaker stand is a superb option for you if you don't or can't mount your speaker on the wall and your speakers can't stand on their own. Also, it can make your living room interior look great!
Yes, you can buy a speaker that can stand itself. But what if you've already purchased it? Here the speaker stand works for you.
Don't worry. They won't cut your bucks. If you're not demanding a fancy stand, you can buy an affordable one.
For small to medium-sized speakers, you can look for Stageek Aluminum Desktop Speaker Stand, available at a very reasonable price.
Otherwise, the Atlantic Adjustable Speaker stand is the best option for bigger speakers like bookshelf speakers. As you see, it's adjustable, so you can adjust its angle up to 45 degrees where you mount the speaker.
FAQs
Do wall speakers vibrate the wall?
Yes. While you're mounting the speaker on the wall, the audio signal comes out of the speaker and vibrates the wall.
Can you drill holes in speakers?
Yes, you can. You can drill holes in speakers if you want to put screws on them. But for some good-quality speakers, you can't make holes.
Last Few Words
Here is everything we had regarding how to mount speakers on wall without drilling holes. If you're passionate about hearing great music, this guide will definitely work for you. Whether you mount speakers or not, there are plenty of options to go with.
But, after getting knowledge about many options, don't be confused. Just, check your speaker types, weight, and your wall condition, before fixing any method.
Good luck, and let us know your experience while mounting speakers!