Are you looking for a high-quality sound system for your home theater? If so, it might be a hassle to choose between studio monitors vs computer speakers as both of them project excellent sounds.
Studio monitors are designed to produce accurate, balanced, and clean sounds for music creators, producers, and directors. They are the right choice for mixing music. On the contrary, computer speakers are suitable for entertainment, enjoying casual listening and movies.
These are the primary differences between them. They do their job best for different purposes. Their varieties use aspects with advantages and disadvantages. So it's pretty tough to select one without knowing them elaborately.
Fortunately, we can give you suggestions for this!
No more delay. Let's start reading!
Studio Monitors Vs Computer Speakers
Whether you're a music creator, music producer, or gaming enthusiast, every aspect demands a different sound system. So here we discuss everything about them with their ins and outs.
What Is Computer Speaker?
Computer speakers are the 2.1 channel speakers and generally they are unpowered. You'll need a 3.5″ external connection to power them.
Some Computer speakers come with a subwoofer while others do not. However, these speakers are ideal for leisure enjoyment such as listening to music, watching movies, gaming, and so on.
What Is Studio Monitor?
The studio monitor is a speaker that is designed for critical and professional sound listeners. It delivers unprocessed pure and realistic audio. You'll get no boost or frequency mix into these.
It's used for various purposes, including different studios, Music creations, and all professional works.
What Is The Difference Between Computer Speakers and Studio Monitors?
Computer speakers and studio monitors are different from each other. They have individual purposes and functionality. You'll also observe a considerable distinction in their prices. Let's know the crucial dissimilarities between them.
Purpose
Home stereo or computer speakers enhance sounds and boost audio levels at highs, mids, and lows. They increase the bass bringing out rich tones from music playing.
On the contrary, studio monitors don't enhance sound waves. Instead, they focus on delivering you a clean sound and offer a flat and accurate response for frequencies. Basically, their primary purpose is to provide you a cleaner and purer music content so you can edit and mix audios.
Functionality
Computer speakers are unpowered, which means they don't have any built-in amplifiers. You would need a separate external amplifier to work with them. That's why they are also called "Passive Speakers."
On the other hand, studio monitors have built-in power amplifiers. So you can call them "Powered" or "Active speakers". Their amplifiers are fixed inside the speaker cabinet so they can work together.
Reach and Coverage
Computer speakers are designed to reach a larger space and deliver blast sounds. So these speakers can go far louder to cross long distances such as parties or large gatherings. They can reach and cover your entire room spreading the sound evenly around the four corners.
In contrast, studio monitors are designed to reach short distances. They are low-key and provide a smooth, clear sound. So if you're up to editing or mixing music, studio monitors will work great. However, they won't be suitable to cross distances in large gatherings. They can also produce as even sound as computer speakers.
Price
Computer speakers are relatively cheaper because their construction, material, and functionalities are not as advanced as studio monitors.
On the other hand, studio monitors are more expensive than computer speakers. One of the precious reasons behind the high price is their costly materials and advanced technology. On top of that, their construction takes a longer time than other usual speakers.
Studio monitors consist of incredible functionalities such as clarity in channels, sound refinement, and accurate audio production. That's why they have an expensive and perfect system for advanced professionals.
Reliability
They require an external amplifier. External amplifier adds bass, and the sounds are more likely to be loud and clear. Thus they are not a good choice for consistency and reliability.
In contrast, they are more reliable for consistency and sound. Their components are excellent in creating precise and consistent sound with the best purity and cleanliness.
Usage
Computer speakers
You can use the computer speakers for serving your multiple purposes. Such as
They are mostly used for entertainment. For instance, listening to music, watching movies, or any other light entertainment.
These speakers are also best for passionate video game enthusiasts and professional gamers as they deliver excellent audio while gaming.
Though they're not for mixing music, you can definitely use these speakers for music writing if you're a music producer.
You can also develop a home theater with computer speakers. For this, you will need to buy an extra 2.1 channel speaker.
New 2.1 channel computer speakers come with advanced integration. So you can use these as smart homemade command modules. They can connect with Alexa, Bluetooth, and Google Home, those make the speakers more valuable.
Studio monitor
Like computer speakers, studio monitors also have different usages. The usage may vary person to person.
Studio monitors are mainly used for professional sound design. All critical areas need a sound monitor for perfect audio reproduction in films, recording studios, radio studios, television studios, projects, and home studios.
These monitors are best for precise audio production from digital to analog signals. They are also used for audio tracking and exceptionally contribute to mixing sounds or songs.
They also have widespread use in professional video editing areas. They're used to deal and edit audio with video editing software.
Advantages
Computer Speakers
The computer speakers can provide lots of advantages. We have mentioned some among them
Computer speakers are available in different qualities and ranges, including looks, prices, and sound quality.
They can adapt to the high and low of music and allow loud sounds without decreasing the quality. So you'll get an overall good performance.
Sounds from the computer speakers can evenly reach every space and corner of your room or studio.
Computer speakers are readily paired with another speaker, which you'll not get in studio monitors.
You can use these speakers for commercial or domestic uses. They're the best sound system for large spaces and gatherings. Whether it's a get-together, pool party, karaoke night, or just leisure movie time in your home, a computer speaker can easily fit these situations at an affordable budget.
Studio Monitors
Let's take a quick look at the advantages of studio monitors you'll get.
Studio monitors are best for television and radio studios. They don't color or alter the sounds too much, so they work excellent in reproducing sound. Thus these sound systems produce pure, precise, and clean sounds to help you listen and mix the music contents.
On top-notch, if you're a professional content creator, music producer, studio monitors will be best for you. Because they can present you crystal clear, pure, and accurate sounds that will assist you to do your job without any interruption.
Studio monitors are relatively easy to set up since they don't require any external amplifier. Besides, they're convenient to use and manage.
You won't require any technical support or professional help for setting up or managing the monitors. Because there are not many external connections, you can do it by yourself.
You'll find quite budget-friendly studio monitors on the market, which won't cut your pocket too much. Otherwise, investing in them for one time will take you longer.
Disadvantages
Computer Speakers
In the world, you don't find anything that doesn't have disadvantages besides advantages. So computer speakers are not different, they have some cons
Typically, 2.1 computer speakers don't have much bass. In this case, you need to buy a subwoofer and connect it to the speaker.
They're not good speakers for you if you like to listen electronic or hip-hop music.
These speakers are not a perfect choice for professional tasks.
Studio Monitors
Now, it's time to know some disadvantages of studio monitors.
Studio monitors are backported. That means if you put the monitor along with the wall, the sound can reflect from the wall. As a result, the total sound can be a mess, and you can't hear it evenly.
As these monitors can reach and cover the shortest distance, so you need to keep it in a close and specific range for listening to the best sound quality. Otherwise, you will face problems with sound monitors while working on a project with multiple people due to your small coverage ability.
If you buy a low-price studio monitor, it'll still be double the price of computer speakers.
Examples
Computer Speakers
You will find various computer speakers in the market with different sizes, functionality, and prices. After researching hours and hours, we have selected some best budget computer speakers for you.
All of them are good at projecting rich and balanced sound, and they need a little space to place beside your computer. They are extremely affordable (below $50), so you can grab any of them without investing many bucks.
Studio monitors
If you are a professional music creator, you have to choose the best quality studio monitor to do the job accurately. You should keep one thing in mind that your professional reputation is involved with your studio monitor's performance. So you can not ignore it when choosing the studio monitors. That's why you should prioritize the quality of the monitors rather than the price. Here are some best professional studio monitors
By the way, If you are interested on JBL speaker than you can read our article How Long Do JBL Speaker Last where we provide our honest opinion. You can trust the sound of these speakers. Because they are all designed to produce flat, clyster clear, and concise sounds.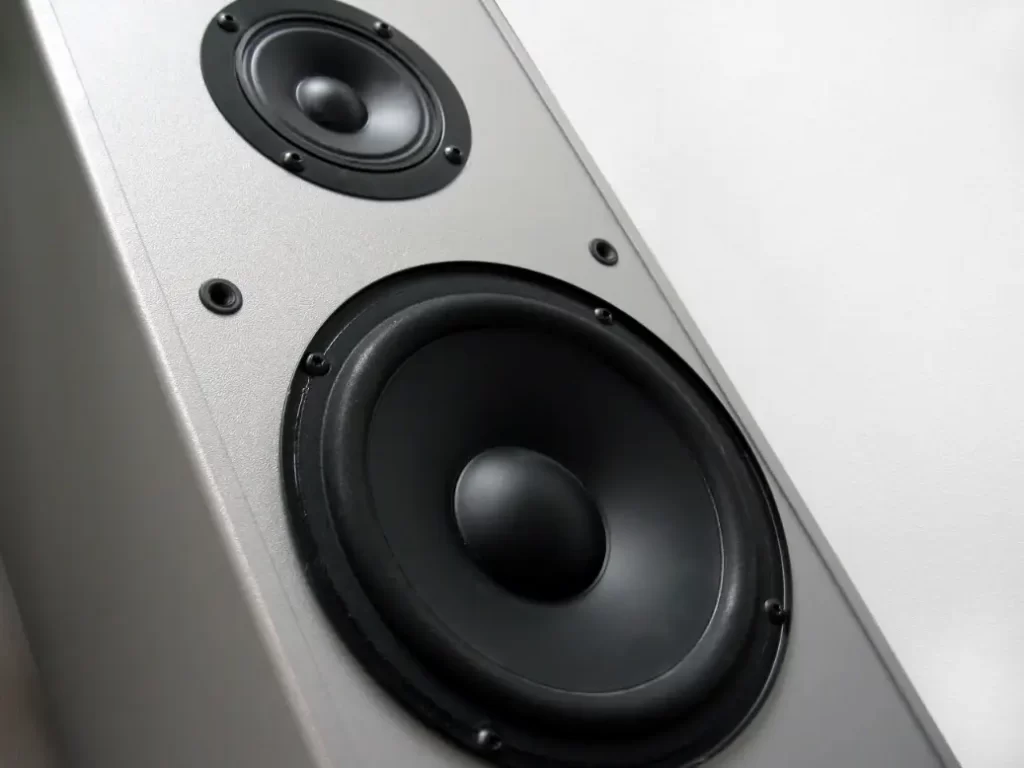 What Do You Need to Consider Before Buying a Sound System?
Above, we have talked about many sides of studio monitors or speakers. But, before buying you must consider two main things. Here we will briefly discuss these.
If you want to build captivating and quality sound, your sound system requires suitable hardware. You need to consider the right brands, configurations and set up for your perfect sound system.
Luckily, you can test the sound quality in many stores and appliances. However, it's quite impossible to listen to precise and accurate sounds in noisy stores. Otherwise, your living room or studio might have a different structure from the stores, so the sounds can be different when listening at home and in the stores.
Yes, some online stores offer a money-back guarantee if you don't like the sound system or face any issue. But the problem is waiting for an unknown period. Sometimes it may take days or even several weeks. Sellers most often hand over the shipping charge in the customer's hand. So if you're going to change it, think about your wallet.
Software is another game-changer for your sound systems. It's equally important as hardware, so you also need to consider it before buying. The software converts electrical signals to sound on embedded computers, integrated circuits, and electronic chips. Whether it's intelligent equalizers, Digital signal processing, or state-of-the-art waveform normalizations, everything is dependent on the software side.
The main factor in the software is the sound card. The sound card's quality can determine how good your PC sounds. The home theater also comes with an attached built-in sound card.
You can tweak the sound card settings on the PC by installing the sound card's driver. Otherwise, you can use built-in settings to configure your home theater system.
FAQs
Can I use computer speakers as studio monitors?
In short, yes. But it actually depends on the phase of your audio-engineering and music-making career. If you're newly starting your career, using computer speakers as studio monitors is entirely acceptable.
However, If you take your music career seriously, we suggest investing in studio monitors. Because you can train your ear better with constant exposure to high-quality audios, that can help you learn the skill of identifying problems soon.
Can I use studio monitors as computer speakers?
Yes, you can use your studio monitor as a regular speaker to enjoy a home theatre. Because studio monitors and speakers offer you nearly the same performance. But when using the studio monitor as a speaker, you will not get as loud sounds as speakers.
Are studio monitors better than speakers?
Studio monitors and speakers are designed to meet different purposes. So no one is better. Instead, both are effective and beneficial to their field.
Why do studio monitors have no bass?
Studio monitors are designed for flat frequency. So it doesn't provide bass to the music. Though some companies and speakers now enhance bass artificially on people's demands.
Final Thoughts
If you want to get a specific answer to which is better in studio monitor vs Computer speaker, we'll say none of them! That's because your requirements, preference, and budget will determine the best option for you.
However, we recommend computer speakers if your intention is complete entertainment and your preference is bass, loudness, and better coverage on a tight budget.
Otherwise, if you're looking for a sound system for professional mixing or mastering, precise and accurate sound, nothing can be better than a studio monitor.
So you can understand, the battle between them is not about which one is better rather than the debate about what will work best for you!
Now, all you need to do is first think why you need the sound system, figure out from this article which one can fulfill your desire, and lastly, pick your perfect sound system.